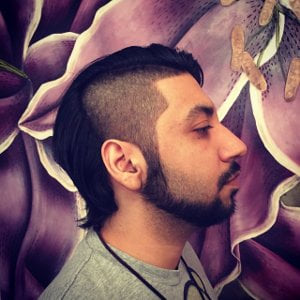 Through photographic investigation, Rusty has explored ideas relating to gender and identity.
With a BA (Hons) in Fashion Photography & an MA in Fashion Photography from London College Of Fashion ,Rusty has been creating interesting work for industry professionals.
His work has also been featured in various fashion magazines Elle India, Rough UK , HUF Magazine , Institute Magazine ,Flawless Magazine.
His work has displayed as part of the M A Fashion Photography show at Victoria House. It has also been displayed at the Strand Gallery & The Foyles Gallery & Focus Photography Festival 2015 as part of the Blow Up Bombay & Blind Boys Exhibition @ Carter Road
Rusty looks to photographers like Mario Sorrenti, Rankin, Nick Knight, Robert Mapplethorpe, Jean Paul Goude and Martin Munkasci as virtual mentors for his craft.
Currently residing and photographing in Mumbai & London , Rusty continues to create articulate imagery that pushes boundaries and evokes reactions. Just like he does !